Although Bitcoin is experiencing high price volatility, most investors continue to 'HODL' the maiden cryptocurrency, potentially expecting a new future rally.
As of December 9th, the amount of Bitcoin under HODL attained an 11-month high of 7,224,018.804, according to on-chain data provided by Glassnode. The data also shows that the last 11-month high was registered on December 6th at 7,223,985.306 BTC. 
HODLed or lost Bitcoins indicates moves of large and old stashes calculated by substracting Liveliness from 1 and multiplying the result by the circulating supply of the asset.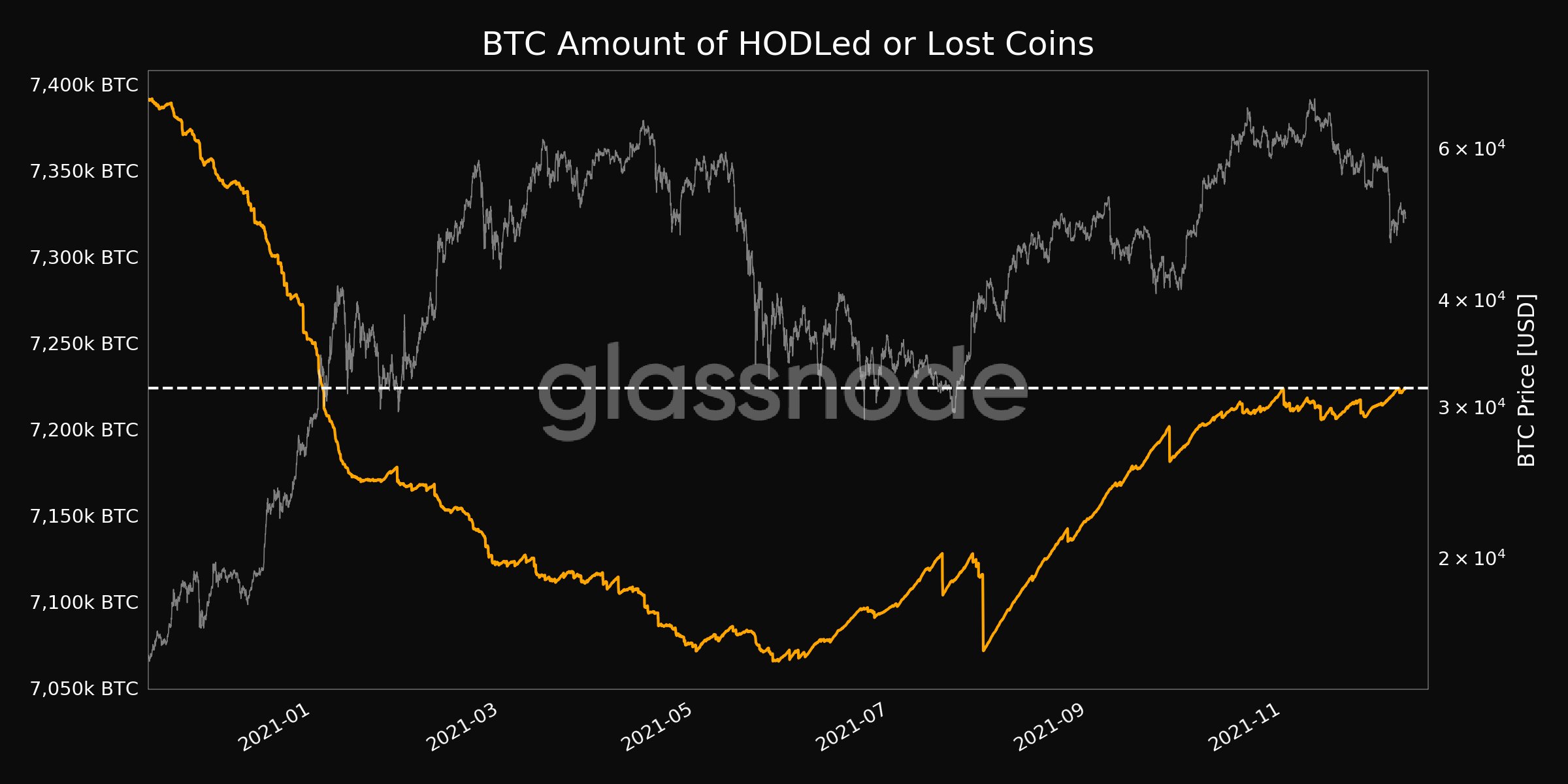 With the Bitcoin under HODL hitting a new high, the asset was trading at $49,400 by press time, having plunged over 13% in the last seven days.
Potential drivers for HODLing Bitcoin
Due to their high volatile nature, Bitcoin and other cryptocurrencies are considered to offer great opportunities for traders to build up long and short positions frequently. However, HODLing provides more cushion to investors, as they are not exposed to short-term volatility and can avoid the risk of buying high but selling low.
The data, therefore, indicate that most investors have potentially continued to accumulate Bitcoin amid the price crash. Usually, when an investment hits an all-time high, that is the least ideal time to buy.
Notably, several crypto analysts have projected that Bitcoin will hit new highs and investors who missed out on the recent record price are utilizing the current correction to purchase the asset.
Furthermore, the Bitcoin under HODL potentially points to the growing status of the number one ranked cryptocurrency as a store of value and a hedge against growing concerns over inflation. In this case, Bitcoin is becoming more valuable, and any price dips make it viable to invest.
Worth mentioning is that the projected growth in Bitcoin value is also due to the increasing adoption of the asset. As more people and institutions continue to adopt the asset, it is expected to surge in value.
Miners unmoved by Bitcoin volatility
Interestingly, despite Bitcoin experiencing high volatility, activities on the network appear to be moving on uninterrupted. For instance, the Bitcoin hash rate had increased 5.91% from 152.73 as of November 7th to 161.755 on December 5th.
The HODL approach also appears to be reflecting on Ethereum, the second-ranked cryptocurrency. As previously reported by Finbold, the Ethereum balance held on central exchanges has hit a record three-year low standing at 14,042,589.584 ETH.
In general, the reducing balance of ETH on exchanges can be considered a bullish sentiment for the markets where investors are potentially transferring the asset to personal wallets, anticipating future gains.