There are currently 16 million Ethereum on cryptocurrency exchanges globally. This is the highest since March 2017 and second only to the all-time high exchange balance of 20.51 million ETH on July 25, 2016, according to data from blockchain analytics firm Viewbase.
The exchange wallet balances have increased rather dramatically since the beginning of 2020. As at the end of January, the balance total was 3.71 million but has increased by over 2 million to reach the current level. This is unprecedented as the highest the total exchange balance has reached since 29 May 2017 is 13.79.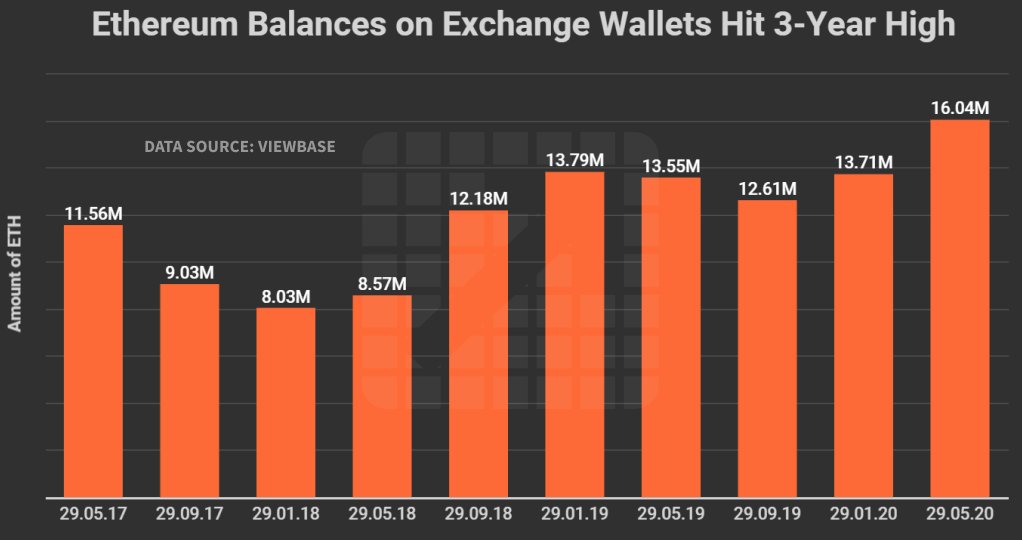 Increased trading of ETH ahead of Ethereum 2.0
The sudden surge in the total number of ETH on crypto exchanges may suggest a growing interest in the coin as the price is also on the rise. Also, the coming of Ethereum 2.0 which is to be launched months from now may be driving the increasing interest.
Ethereum's Options Open Interest has also hit a new all-time high on derivatives exchange, Deribit. According to the blockchain data analytics platform Skew, the last recorded number of open interest was 459,000. This may suggest that ETH holders are getting more confident and bullish on the price of the asset, particularly as Ethereum 2.0 approaches.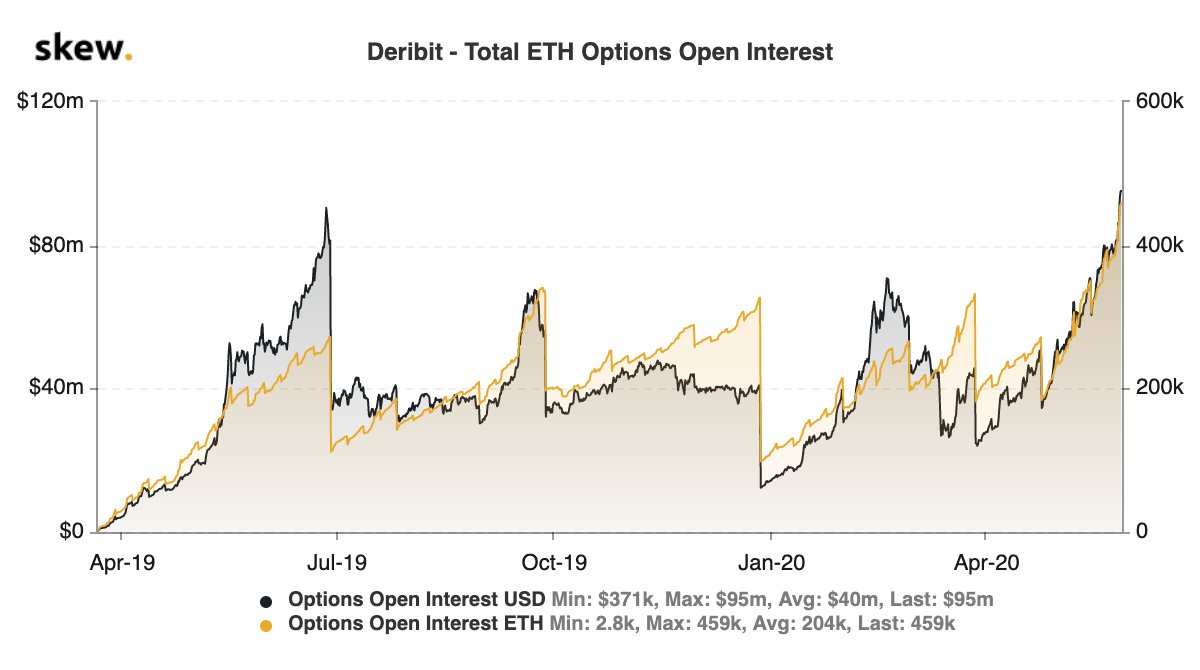 The second-largest cryptocurrency by market capitalization has in the last 24 hours gained 2.64%. This makes it the only top cryptocurrency that has recorded gains within this period while most of the top ten have posted losses including Bitcoin which unlike Ethereum, has recorded a massive decrease in online exchange balance recently.
Ethereum may rally 50%, analysts suggest
Analysts may not find Ethereum's rising price and trading activity surprising. This is because the cryptocurrency's fundamentals have shown some solid strength and analysts say the asset is highly undervalued. In fact, Mythos Capital founder Ryan Sean Adams says Ethereum is doubly undervalued.
According to Ryan, although Ethereum has seen massive adoption and the network is massively used to build smart contracts and dapps that causes an increase in transaction fees, the price of the asset has not shown a corresponding increase in price. He added that Ethereum may surge at least 50% in the coming months if the historical correlation between transaction fees and price comes into play.
ETH now trades at $219.10 at the time of writing. As the launch of Ethereum 2.0 draws closer, there may be increasing interest in the asset as is being demonstrated right now. This may further push the price up as more institutional and retail investors may want to participate in the staking of ETH for interests when the network converts to the Proof-of-Stake algorithm.