Bitcoin status in the cryptocurrency sector is facing a threat from Ethereum as the number two ranked cryptocurrency continues to gain momentum.
Data provided by Bloomberg indicates a sign of increased institutional interest in Ethereum with its one-month forward contract trading at an 8.37% premium to the spot price.
On the other side, Bitcoin's rate stands at a 6.58% premium, solidifying Ethereum's possible bullishness. Since April, the rate of Ethereum open interest has increased from 0.1 to 0.3 as of August. The variation is a signal for an increased interest in Ethereum by institutional investors.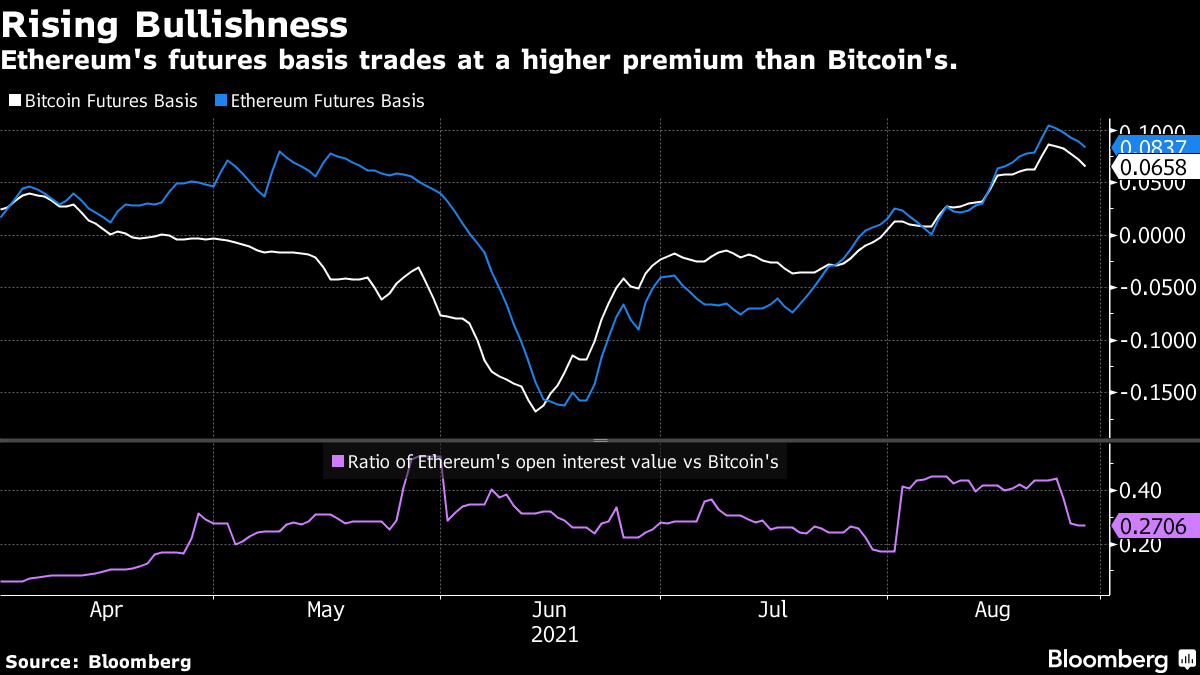 The institutional activity might have been influenced by the recent price movement of the two assets. Notably, after sustaining a rally early this year, Bitcoin tumbled due to increased regulatory concern. During this period, Ethereum position in the crypto market was gaining momentum as it powered activities in decentralized finance and NFTs.
Therefore, if the value of Ethereum and its use continues to rise while BTC drops, there is a high probability more institutions will keep turning to the asset, pushing the price higher.
Analysts projecting more institutional activity for Ethereum
Notably, analysts have been speculating about Etherum's dominance of the crypto market in the coming years. For instance, Head of Institutional Coverage at crypto trading platform FalconX Aya Kantorovich said Ethereum is the next asset for institutional investors once they have finished with Bitcoin.
He made the remarks amid a Bitcoin rally powered by the entry of institutions into the sector. Notably, Ethereum's underlying structure can be attributed to the increased interest.
One of the notable upgrades on the Ethereum network is introducing staking with a shift from the current energy-consuming network of proof of work. In this line, back in April, JP Morgan published a report indicating that Ethereum will outperform Bitcoin due to improvements in liquidity and a higher turnover on the public Ethereum blockchain.
[coinbase]