Exchange-traded funds (ETFs) investors are increasingly pouring more money into funds that will help hedge against rising inflation. 
According to data provided by funds inflow tracking platform EPFR, net inflows into inflation-protected bond ETFs as of August 8, 2021, hit $27 billion globally from the start of the year. The figure is almost double compared to the $16.45 billion net inflows recorded for the entire of 2020.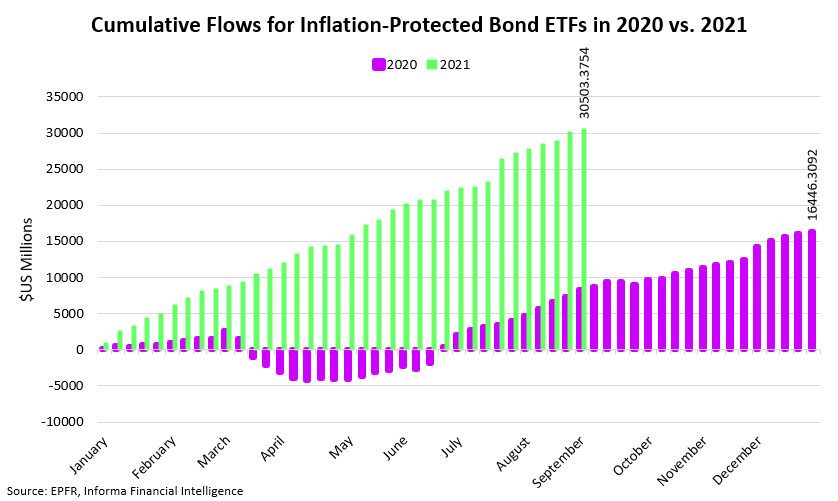 The inflows are potentially a reflection of growing global anxiety that inflation could skyrocket further. For instance, the United States consumer price inflation figures were higher between April and June, fuelling the fears further.
Therefore, investors are leveraging ETFs' rise to switch into bond-based funds designed to offer protection against monetary debasement.
The inflows highlight the shifting approach to inflation by investors. Notably, in the past investors have managed to ignore inflation, but the increased levels of the central bank and government fiscal stimulus packages have instilled fear among market participants.
Overall, the inflation product ETF bonds reflect the general trends among the global funds.
Our previous research indicated that investors pumped $639.8 billion in ETFs for the first six months of 2021. The figure is more than double compared to the first half of 2020. 
Others hedges against inflation
Notably, ETFs cushioning against inflation are emerging despite the existence of other products. Historically, gold is known as the ultimate hedge against inflation.
With increased institutional participation, Bitcoin has also emerged as a potential hedge against inflation in recent months. However, the status was recently put into question after the asset corrected by almost 50% from its all-time high price when the inflation fears were accelerating.
Bitcoin has received much attention as an inflation hedge with the price surging due to increased investor participation. Elsewhere, gold prices appear to have stagnated.
Overall, the interest in ETFs stems from the product's popularity due to factors like attractive tax efficiency, cost, liquidity, and transparency.
[robinhood]
[coinbase]