Short video sharing platform TikTok is getting into the non-fungible tokens (NFTs) scene with the planned launch of its first collection of digital collectibles. 
In a blog post, TikTok indicated that the collectibles are under the TikTok Top Moments' brand and will be based on six "culturally significant TikTok videos" from top creators.
The social media platform intends to auction the collectibles and select limited edition NFTs for the planned October weekly sales.
The platform notes that the initiative is part of the company's commitment to helping creators achieve their goals to leverage the growing creator economy.
TikTok will also partner with several creators, celebrities, and online entities. Some of the partners include Lil Nas X, Bella Poarch, Grimes, Rudy Willingham, Curtis Roach, Brittany Broski, FNMeka, Jess Marciante, and Gary Vaynerchuk.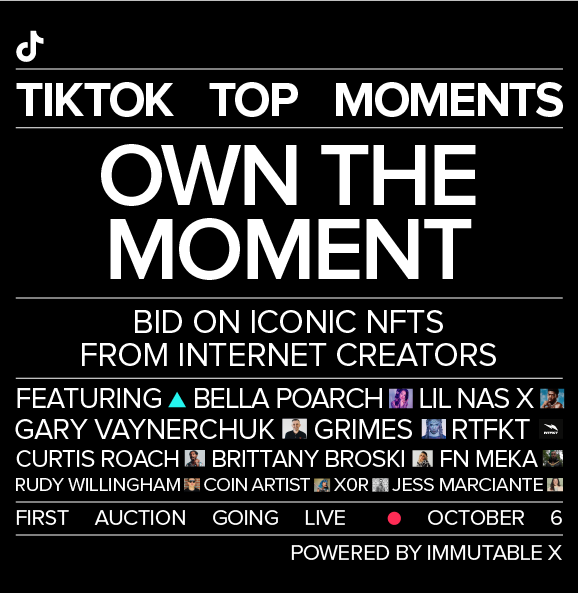 Musician Lil Nas X will go up first on October 6th, partnering with artist Willingham. Elsewhere, Grimes will Collaborate with Brittany Broski. The NFTs will then be minted and traded with zero gas fees on the Immutable X Layer-2.
TikTok to leverage Ethereum network
The NFTs will be built on the Ethereum network powered by Immutable X, which deploys StarkWare's technology that creates the first carbon-neutral Layer-2 scaling solution for Ethereum.
The weekly drops of limited edition NFTs are set to be sold at accessible price points as a means of ensuring every creator's audience has a chance of owning the art.
"Proceeds will largely go directly to the creators and NFT artists involved, providing TikTok and NFT fans and enthusiasts with a way to show support to the creators they love," TikTok said.
TikTok noted that it would not hold any proceeds from the sales.
The developments add momentum to the growing NFT scene, considering that TikTok is a formidable mainstream platform to venture into the sector.
[coinbase]