BTC/USD open interest has risen above $500 million as last night, according to data from the crypto analytics platform Skew. This is in spite of BTC's crash below $7,000 which happened around the same time.
Before the sharp rise, the open interest was just over $450 million. The open interest has risen by 100% since the year began and the new level is the highest so far in the month of April.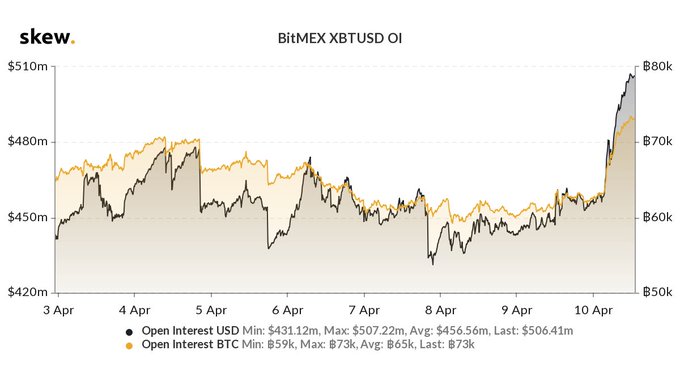 Bitcoin open interest is the value of outstanding Bitcoin futures contracts that have not been settled yet. An increase in this value signifies an increasing flow of money into the asset while a decrease means money flowing out.
A rise at this time may be an indication that there are more investors coming into the cryptocurrency space especially for Bitcoin, despite the seemingly unstable price.
Investors developing more interest in Bitcoin
Bitcoin had a good time this year before experiencing the major crash on 12 March alongside the stock market. While the crash sparked controversy at the time concerning Bitcoin's future, smart investors used it as an opportunity to add more of the asset to their portfolios.
A report released by Coinbase at the end of March indicates that Bitcoin experienced high market activity with 48 hours of the crash, mostly by retail investors buying from those panic selling.
This is also supported by data showing a sharp recovery following the crash, represented by an increasing number of active addresses percent immediately following the crash. The percentage increase in active addresses has risen to over 20% in the last three weeks with potential to go even higher. This may be the direct result of the massive buying activity on the Bitcoin network at the time.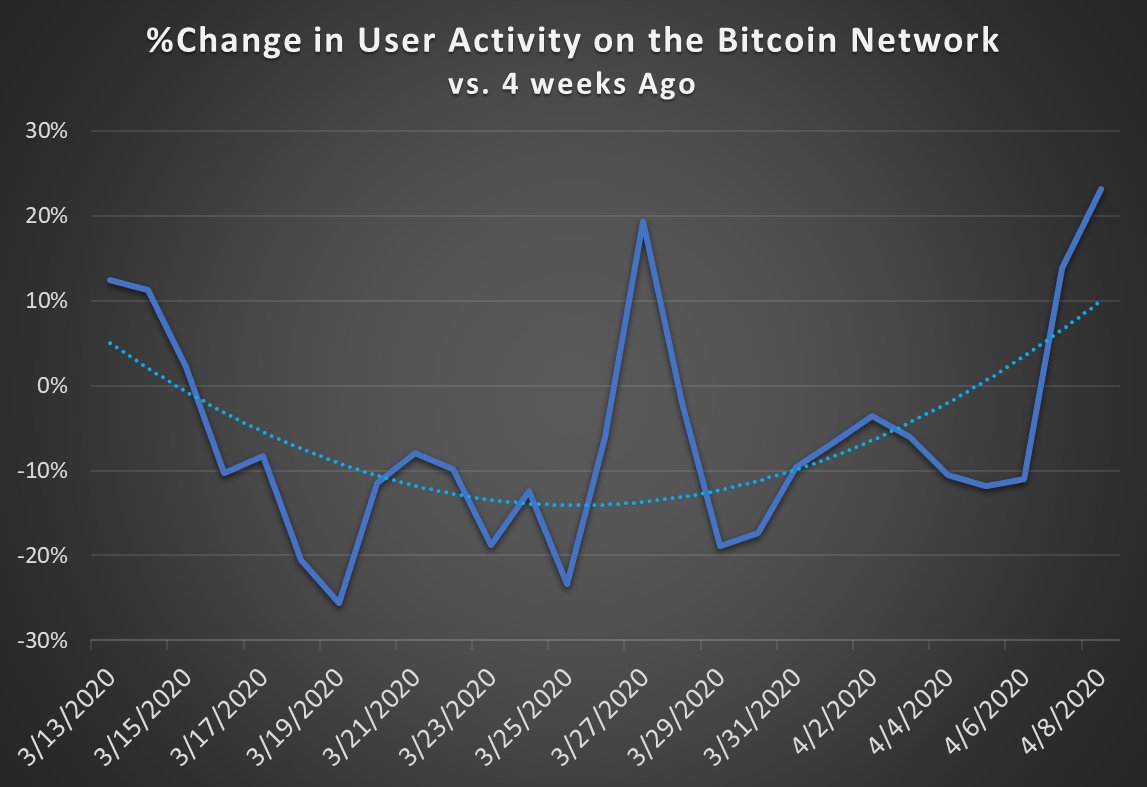 A safe haven in uncertainty
The rising interest in BTC is hardly surprising, especially at a time like this when investors are losing confidence in stocks. The COVID-19 pandemic has dealt a deadly blow to the stock market, thus forcing investors to consider investment options such as Bitcoin, gold and silver.
A businessman and author of personal finance book "Rich Dad Poor Dad", Robert Kiyosaki recently endorsed Bitcoin, saying it is not government money but the people's money as it is fully decentralized. He has also indicated an interest in investing in the asset and encourages young people to do the same.
The Bitcoin halving is less than one month away and although the price has not yet shown the kind of bullish tendency associated with past halving events, the price may eventually pick up as more investors rush to buy ahead of time. However, the interest in the keyword "Bitcoin halving" on Google grows by 669%, as the event approaches.
The event will cut the production of BTC by 50%, thus reducing the supply and with the increasing interest being shown currently, the asset may have a brighter future with such scarcity and high demand.